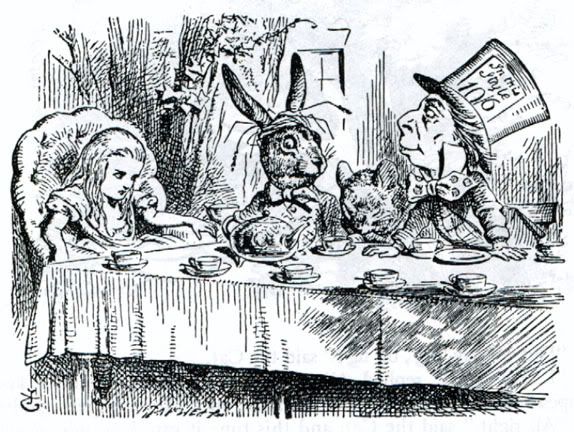 March Hare: Birthday? Hahaha! My dear child, this is not a birthdayparty!

Mad Hatter: Of course not! Hehehe! This is an unbirthdayparty!

Alice: Unbirthday? Why, I'm sorry, but I don't quite understand.

March Hare: It's very simple. Now, thirty days have Sept- no, when... an unbirthday, if you have a birthday then you... haha... she doesn't know what an unbirthday is!

Mad Hatter: How silly! Ha HA Ha Ha! Ah-hum... I shall ellusinate! Now statistics prove, prove that you've one birthday.

March Hare: Imagine, just one birthday every year.

Mad Hatter: Ahhh, but there are 364 unbirthdays!
This happens to be my birthday...as opposed to all those other days which I celebrate as unbirthdays...and possibly the only time I could envision wearing Martin Margiela's gift bow ring.

However, as the ring is a momentary whim, I will focus on the tapas and gallons of sangria...which, later today, will be a reality.

Cheers!