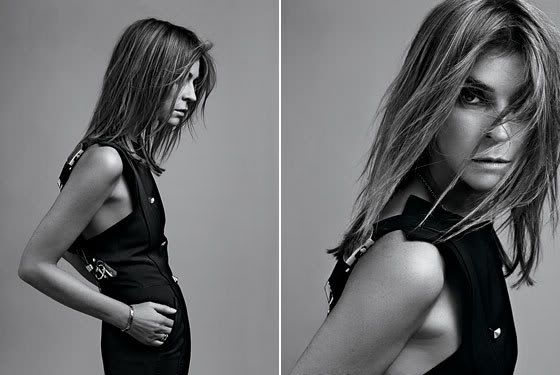 As you could probably tell by this point I have a slight (alright massive-ish) love affair with French Vogue. Okay, every so often a dodgy issue hits the news-stands but I know deep in my heart that the following month it will be back up to its usual standard...inspiring me in a way few other publications do. So you can imagine my excitement when I came across an interview on NY Magazine's website with the editor, and muse, of French Vogue...Carine Roitfeld.
I'm not going to go into massive detail...it's a long article, which you can read
here
...but there were a few sentences which particularly caught my eye. Words which explain why I will haunt my local bookstore for a new issue of French Vogue but have no enthusiasm for the sea of blandness which is its American counterpart...
"Fashion is the place in the world where Roitfeld is most comfortable and at home. Because of this, Roitfeld's French Vogue is the polar opposite of most American fashion magazines. It is unconcerned with making fashion wearable or accessible to its readers. It is not inclusive: There is no advice on how to dress if you're shaped like a pear or about to turn 50."
Because, isn't that the point? It's not a matter of age...or wearing the dress that is #1 in that month's Top Ten...or an actress getting the cover to promote her latest movie...it's about FASHION. Unconventional, sexy, messed-up...fashion. There will always be things that you can't wear...take inspiration and enjoy the things you can (which isn't going to be exactly the same thing as everyone else in your age/weight demographic).
A final thought on styling for the magazine...but equally relevant for us all as we stare into our closets...
When Carine Roitfeld, the editor of French Vogue, styles a fashion shoot, she does not start with the clothes. She looks first at the model and comes up with a story: Perhaps this girl has married young and taken a lover. Perhaps she married young, has taken three lovers, and is about to go to Brazil. Perhaps she lives in London and is bored to death with mad cow disease and wants desperately to eat a great, juicy piece of steak. "I do a movie in my mind," she says. "Who is this girl?"