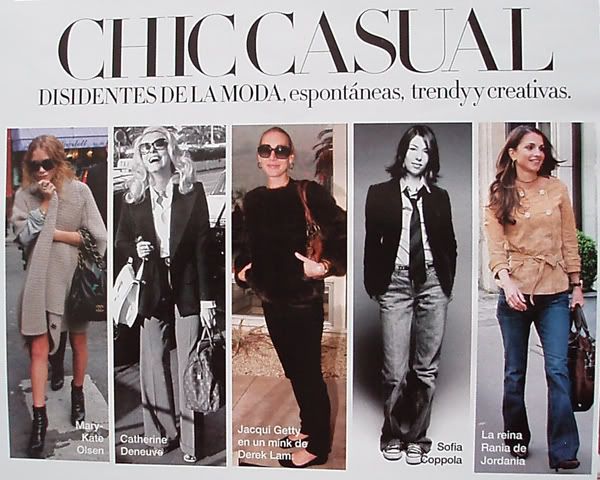 I came across Bazaar en Espanol by accident...having flipped through all my usual targets at Barnes and Noble I was still, quite frankly, bored. But there was Diane Kruger, looking golden and welcoming, so I gave it a try.

Advance warning...as far as the editorials it is, if anything, slightly more bland than US Bazaar (who knew that was possible?). There were, however, several pages of snapshots..."women who provide inspiration"...that were so spot-on that it was worth the $2.95 purchase price (real big spender...).
Casual Chic...featuring, amongst others, Catherine Deneuve, Talitha Getty, and Marianne Faithfull. The only oddity being Madonna in a green tracksuit...compared to everyone else on the page she stuck out like a sore (gangrenous) thumb and I couldn't figure out why she was included. The Eccentrics...Isabella Blow, Cecilia Dean, Charlotte Rampling. The Society Dames...the Traina sisters, Babe Paley, and Gloria Guinness. And the Icons...Betty Catroux, Jean Shrimpton, and Amanda Harlech.
The thing that I really appreciated was that the images weren't all the "It Girls" of the moment. Much as I love the style of the Mary Kate and Ashley Olsen (and both graced these pages), it was refreshing to see Nancy Cunard...Julie Christie...and Lauren Bacall...looking gorgeous and...inspirational.